This is a Previous post from the archives made by Socali V8 I figured since I had to search for it might as well repost it:
Bleeding your hydraulic brake system is always a real pain in the a$$, especially if you have modified your system by fitting a rear disc set-up, or larger calipers, adjustable proportioning valve, etc, etc, etc........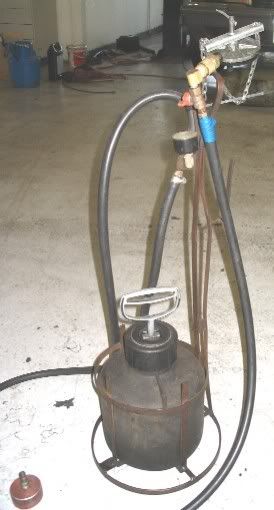 Here is a simple tool that was made at my autoshop years ago, although you can buy them as a proper brake bleeding tool, you can make one for much cheaper.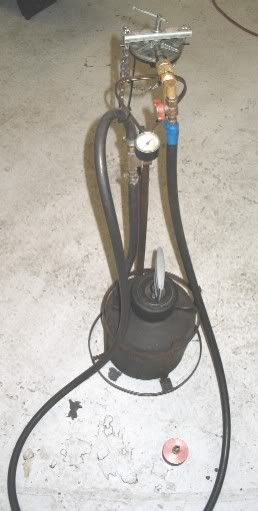 It consists of a plastic sealed bottle/ tub which is 3/4 full with new brake fluid that can be pumped up and pressurised with a simple handle (insecticide bug sprayer). A pressure guage (5-8psi pressure is used) plus an adapter which screws onto, or fits over, the brake master cylinder.
You can buy adapters that with a chain will clamp down onto your round filler neck, or in the case of Chevy master cylinders a larger rectangular adapter is needed.
This clamps ontop of the master with a simple lightweight chain, and the handle is pumped up exerting 8psi onto the hydraulic system while filling the master at the same time.
If you have replaced the master cylinder, you should begin by bleeding those ports first, simply crack them open 1/2 a turn and let all the bubbles flow out (@ 8psi pressure) until you see fluid only.
_________________
ISN'T HE SO SEXY IN HIS PRETTY WHITE DRESS???LOL