Long intro, then questions … I recently purchased a 1991 AWD Tiger XL based on the astro. I thought my first question here would be on my underpowered drivetrain, but I'm back to the lift. I'm offroad a lot and would like to get 4" up. Not trying to squeeze huge tires in ~30" will do for now, but need some room for flex.
I got it with near-bald tires and a very saggy butt, weight = 5780 lbs. In the process of trying to get it to smog here in CA, I pulled the rear wheels for access to the gas fill and vent lines and saw why – upside down leaf springs and dead shocks.
I took it to a leaf spring shop nearby (Atlas Springs) – they do work for almost every suspension shop I've heard of and do custom leafs all day along. I ordered some Detroit Springs and had Atlas add a leaf to it to accommodate the heavy rear coach on this thing.
http://www.atlasleafspring.com/products.html
Also the bushings/U-bolts:
http://www.sdtrucksprings.com/index.php ... ts_id=7686
Problem – the stock astro leaves are 2.5" wide and these are 3" wide. No problem - they rebuilt my leafs and added a leaf so now it's a 4/1 setup. Replaced front (Bilstein F4-B46-1047-HD) and rear (Bilstein F4-B46-2136-H0) shocks at the same time, these were free from another Tiger-lifting friend.
Before: front L = 29/ front R = 28/ rear L = 25/ rear R = 25.5, rode like a porpoise and very tippy in the turns
After: 29/30/28.5/29 Gained 3.5" in the rear for a reasonable price, happy me.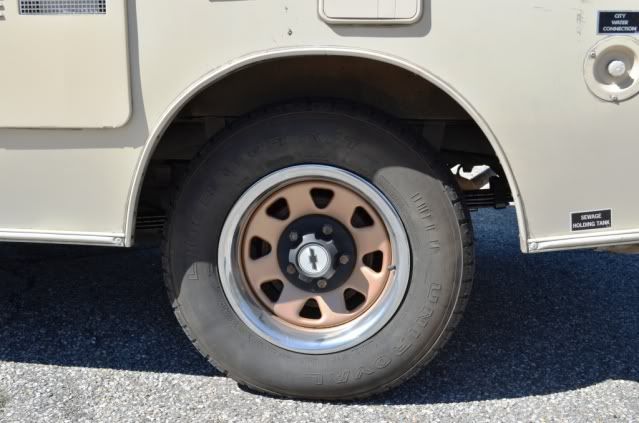 But it still rode like a mush-mallow, so onto tires. Original tires were 215/75/15 (27.7" dia) load range C. You can't get AT load range D or E on 15" rims, so I went to 16" wheels and added 225/75/16 (29.3" dia) E tires. Cranked stock torsion keys to max, and trimmed maybe 1.5+" off the rear part of the front wheelwells due to rubbing at full turn.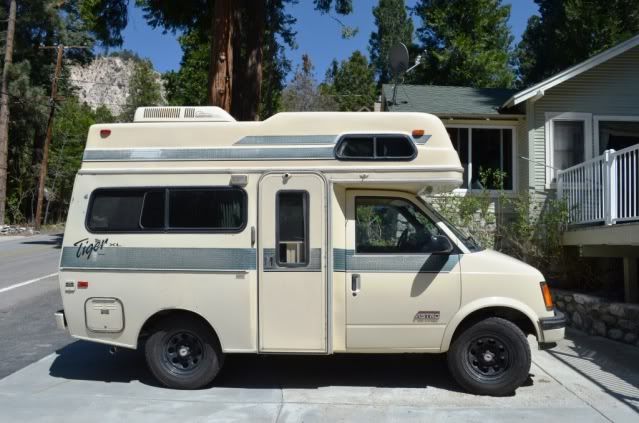 With new tires it sits at: 31.5/32.5/30.5/31 – a little off camber which I'll get to, but pretty good. Rides SO much better with the stiff sidewalls, and no more slowing for turns. Hard turns on flat surface, no problem – turning through dips I sometimes hit rubber since torsions are maxed.
Took it offroad a few times, maybe 40 miles total of washboard and 400 miles highway driving. Now the rear is sagging again – not as bad as before, but still … rear leafs are flat again, and maybe inverted a bit. Uphill right hand turns, right rear tire hits. Turning into driveways, either front tire hits on the dips.
Time to stop puttering around and lift this thing, instead of this see-saw approach. Don't want to ruin new rubber. Currently it sits at 31.5/32.5/29.5/29.8
So on to questions (finally)
REAR
:
Atlas will add a couple leafs (or make all new) and get me the lift in the rear, maybe adding a block? Do I want to use a shackle for offset or just have them make me a set of leafs and bolt directly? Pros/cons?
FRONT
:
I'm not a fan of subframe spacers but after looking at this install of the 2" OV kit, I'm not opposed to doing that.
http://chevroletforum.com/forum/astro-d ... ans-25553/
My spacer bushings are hard and cracked they were on the list for destruction anyhow. But I'm not sure I can even do larger spacers because of the attachment of the Tiger coach. I'm digging thru SnoDrtRider's thread for the home-brew approach, great info!
Have a call in to Gerald for the torsion keys – does ANYBODY else make a re-indexed key for the long arm Astros? Do we know how high does just the OV torsion keys get you? I want to get the rear leafs made correctly without too much rake.
I think I saw somewhere here that the bumper relocation bracket isn't necessary – there are bolt holes higher up you can use for the mount? True on a 1991?
FRONT SHOCKS
:
I know that Rancho 5000 is what OV sells with their kit. Not a fan of the Ranchos. Any other good options? Clearance in the front seems pretty tight, based on the install of the Bilsteins not sure what I can squeeze in there.
Hatching a different plan for the rear, mui heavy back there.
GEARING
:
For a 4" lift (if I can get that), what is suggested for re-gearing front/rear. My drivetrain is definitely struggling already, don't want to add to the problem.
Thanks for listening, any input much appreciated!