Coming back into the fold after a time away. My 2002 Astro LT (purchased new in July 2002) just called it a life after 209,000 faithful miles. Head gasket... I wasn't getting the White Cloud of Death, but there was at least 3 quarts of coolant in the crankcase. Having vowed never to attempt major engine work on this van (the whole "remove-the-van-from-the-subframe/engine" thing had me), I decided it was time. So I poured a bottle of Barr's Leaks head gasket in a bottle gunk into it, which seems to have fixed it at least temporarily. Tomorrow the old boy takes what will be its final trip with me, down the road to Carmax to see what they'll give me. I'm hoping for something in the wholesale range for it...
Meanwhile, since I wasn't planning to buy a brand-new vehicle, I couldn't think of a reason to buy a different kind of vehicle and go through the maintenance/service learning curve again. So I found myself looking for a newer, lower-mileage LT to bring home. After a little searching, craigslist turned this up: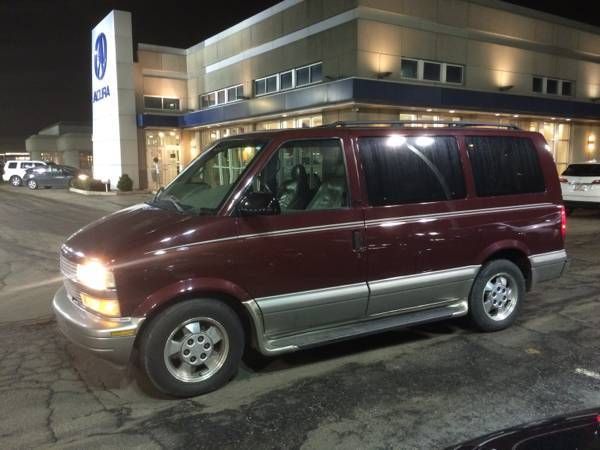 Not the best shot, but it's all I have right now. It's a 2003 Dark Carmine Red AWD LT with leather 7-passenger seating set-up. My 2002 had everything BUT leather and AWD, so this one is the next logical step up. It only has 109,000 miles on it, was a one-owner vehicle, and seems to have been very well taken care of.
That said, within about a hundred miles of buying it, the left front caliper began dragging. I pulled it apart yesterday, hoping it was just sticky slide pins, but NO -- the rear piston was stuck out. So, 60 bucks later, it has a new LF caliper. Driving home (1 mile) from the parts store after returning the core, all of a sudden I had a mushy pedal and the brake light came on. Air bubble, I thought. Pulled into the driveway, got out and noticed a trail of drips behind the van. Hmmmm..... Jacked up the corner, pulled the wheel expecting to see a dribble from the bleed screw, and instead saw a lake under the gas tank
Now I know why it was so cheap......
Another trip to the parts store (glad I work there and get a discount!) and I now have a few fittings and a piece of Cu-Ni brake line running down the driver's side to the bulkhead fitting above the rear axle. Still need to wrap it up and re-bleed, but we're getting 12" of snow right now and me with no way to put the van in the garage (too many motorcycles hee-hee).
So thus ends one Astro adventure and another begins
Steve