Talk of OEM wheel pricing in another thread reminded me that I have a set of these that I should shift.
These are the OEM 6-lug (2003-2005 vans) 16x7 wheels in the "turbine" 5-spoke style: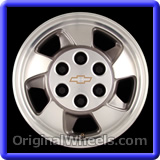 I have 4, with center caps, as pulled from my 2003 AWD van at about 65k miles. $350 for the set.
Currently they're sporting some very hard and cracked OEM-sized tires that should be removed. If you're in California, I'll split the cost of dismounting and disposal with you. If you're picking up for transport outside CA, disposal might be cheaper in your home state. Prefer not to ship, but I can handle the details of dismount and packaging if you're paying for shipping and packing supplies.
_________________
"My minivan is cooler than your bro-truck"
2003 Astro AWD Astrolander/ZMB - GTRV Top Transplant, 4" OLV Lift, NP233 T-case, evolving interior
1995 Safari GTRV
Organ donor
-
gutted and gone.