After 5 months away from Canada as a SNOBIRD, chasing the sunshine down here in Mexico, it is time to return North to Vancouver Island, Canada for the Summer. Along the way, I will spend the first two weeks in May wandering around in Arizona, and I plan to attend OVERLAND Expo WEST 2017, in my custom built ruggedized 99 AWD Safari Tiger CLONE.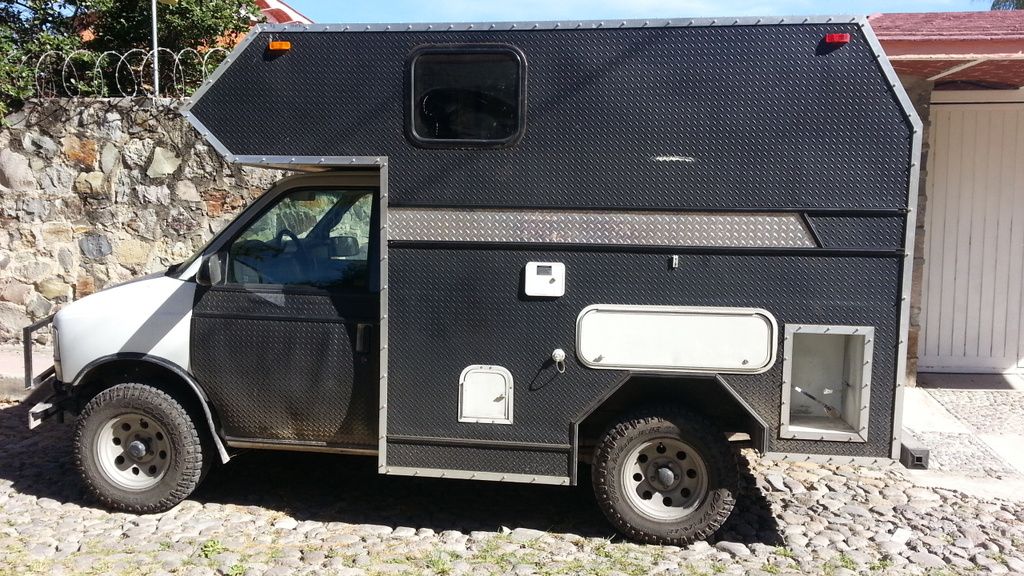 THE LITTLE BLACK BOX
CUSTOM FRONT BUMPER AND GRILL GUARD ...
THE MEXICAN DRIVERS ARE VERY POLITE WHEN THEY SEE THIS AIMED AT THEM (;-[)
I originally built this TIGER inspired Micro Motorhome for long term / full time living, while wandering along the road less travelled, into remote places. For that life style, it is ideal. Big enough to prevent claustrophobia, tough enough to survive the Mexican potholes and cobblestones, yet still small and nimble enough to get around on the narrow, tight Mexican streets. And with AWD, Updated EVERYTHING, HD suspension, and Gnarly Duratrac tires, it is quite suitable for rough roads, and some light duty OVERLANDING.
However, I have decided to use rental homes for my future SNOBIRD/Wintering in Mexico, so for my bi-annual road trips back and forth between Canada and Mexico, I will only need an ordinary travel van with a bed inside. So reluctantly, MY 99 AWD MICRO MOTORHOME WILL BE FOR SALE.
LOCATION: Registered and licensed in BC Canada.
Currently in Ajijic, Jalisco, Mexico.
I will spend a the first few weeks in May wandering around in Arizona, and attending OVERLAND Expo WEST 2017, in Flagstaff, Az.
After that, I will be driving North to Vancouver island, Canada ...
the route is OPTIONAL.
I would prefer to sell this vehicle in BC, Canada to a local buyer, after my return. To simplify legalities, the ideal buyer will be a BC resident.
HOWEVER, if some one in the US or other Canadian provinces can sort out the required import and registration issues for a new jurisdiction,
I am willing to deliver to just about anywhere in Western USA or Canada.
NOTE: After the motorhome body conversion a BC Provincial mechanical/safety inspection was required and passed. By BC provincial registration, this is still legally defined as a VAN,
HOWEVER,
on import into MEXICO, it was inspected and qualified as a MOTORHOME.
Which means it has a 10 yr limit on the Mexican Temporary Import Permit.
CONDITION: I spent about $8000 purchasing, repairing, upgrading, and customising the chassis and mechanicals on this unit. Bills for most of the work are available.
I intended to live in this unit full time, long term, and take it to remote locations over rough roads. In some cases, no roads at all.
Just about everything that could be done to improve durability and overlanding capability was done.
The van has about 20,000 kms since prepping it for long term travel, with a total of 240, 000 kms.
This van is in excellent mechanical condition, but since the conversion, it has been on the road for two years and has been lived in for a few months as well.
CHASSIS:
ALL NEW brakes, including OEM front hubs/bearings, HD one piece rotors, HD pads, rear drums, wheel cylinders, and shoes, replaced proportioning valve, NEW BRAKE LINES
BILSTEIN SHOCKS all around
700 lb addaleaf extra springs into re-arched rear springs, with HD urethane bump stops.
The rear spring setup provides near stock height with much improved control and weight handling.
2" body lift with NEW Urethane spacers
1.5" front fender cut outs
Alloy rims with DURATRAC LT 235/75/R15 tires and McGard wheel locks
Recent wheel alignment
With this arrangement of body lift and extra clearancing at the wheel wells, the big wide heavy gnarly Duratrac tires give excellent control on the hiway, without bottoming out in the rough ...
if you drive slow and sane.
NOTE: NO TORSION BAR LIFT WAS REQUIRED. The torsion bars are set at HORIZONTAL, for best steering, wear, and control, with the center of gravity kept as low as possible to minimise wind wander with the massive side and frontal areas.
The van drives straight at 75 mph on a good hiway, and handles well at low speeds in the rough stuff too.
ELECTRICALS:
NEW HD battery, alternator, idler pulley with bearing, serpentine belt
HD head lights
custom RV style tail lights and running lights
FUEL SYSTEM: NEW FUEL PUMP, locking gas cap, regular fuel system flush with STARTRON additive
COOLING: NEW water pump
LUBRICATION: RECENT TRANSMISSION FLUSH & service, Transfer Case, Front and Rear diff
TUNE UP: recent tune up with NEW wires, distributor cap, rotor, and spark plugs
KNOWN MECHANICAL DEFICIENCIES:
A/C system has a slow leak - probably inside the heater box assembly
oil cooler has slight leak at radiator fitting
heater fan is noisy at high speed [ good used replacement is on board]
Windshield is cracked in the middle ... replacement is available under my BC insurance when I get back
Driver's door was replaced and key does not work
Radio is missing a knob
BODY: I spent about $6000 AND over six months of full time labor building the motorhome body. Many EXPENSIVE RV windows and doors were used, including a roof vent/escape hatch, and a huge rear escape window, these RV rated pieces are not cheap. The body structure was built using a stressed skin design that concentrates weight inboard, instead of on the two outside walls. At the BC provincial mechanical/safety inspection, the inspector commented on how solid the body conversion was, but he made me replace my existing Safari van left front door and front bumper before I received the BC certification. The body is plywood screwed and glued on to 2X2/4/6/10" structural SPRUCE members, with over 2000 deck screws and other fasteners. I have about 40 years experience as a general carpenter, with 10 years experience camperising dozens of vans, and this is my third MOTORHOME conversion. I built it tough, possibly over built it, because this was intended to be my only home for months at a time. The roof is ONE PIECE of tough, durable Grey checkerplate garage floor plastic covering. The exterior is covered with tough, durable, 1/8" thick Black rubber checkerplate material, with aluminum angle iron reinforcing all the corners. This reinforcing has been used against several low hanging branches, and a few other immovable objects, but is still solid. Mexico can be tough!
The interior is real OAK panelling, with mostly Oak trim. The bed is Queen size, with 4" of foam and an extra 2" memory foam topper. There is a NEW/UNUSED removable/pull out porta potti under the bed. There is a removable/pull out 12 V cooler under the kitchen counter, and a NEW/UNUSED STAINLESS STEEL propane powered portable barbecue. The water tank is huge, 20 Gals, designed for long term camping at remote BAJA beaches, and runs into a HAND PUMP and SS sink. There are interior lights over the bed and kitchen counter. INTERIOR Storage is available over the bed and the cabover section, and IN VARIOUS CUPBORDS AND DRAWERS. EXTERIOR storage is available under the bed, and in locking compartments around the exterior. The gas cap is locking.
Inside the exterior storage is a set of most likely needed maintenance and replacement parts, extra fuel, water, oil, and other fluids. A comprehensive set of mechanics and carpenters tools are also there, and these could be negotiated if desired. There are also most of the camping accessories any one could want, including a solar shower, 5 gal folding water containers, pots, dishes, cups, and cutlery. these can go with the van if wanted.
PRICE:
NEGOTIABLE,
BUT,
With about $14,000 and six months labor invested in this unit, it WILL NOT GO CHEAP.
COMPARE THE CAPABILITIES OF THIS UNIT AGAINST AN EQUIVALENT AWD TIGER, OR A VW QUATTRO CAMPER VAN, and you will see it is a bargain.
Asking price is $12,000 US,
depending on where and when delivery takes place.
If I have to drive it to you, or sell it before I get back to Vancouver island, the price is fairly firm.
But if you pick it up after my return to Vancouver Island, then we can negotiate.
The ONLY PART TRADES I would consider are a 2003 -2005 AWD Astro/safari van, OR a Japanese AWD KEI van like the Subaru Domingo.
THANKS FOR YOUR INTEREST,
LAZ 1
(;-[)